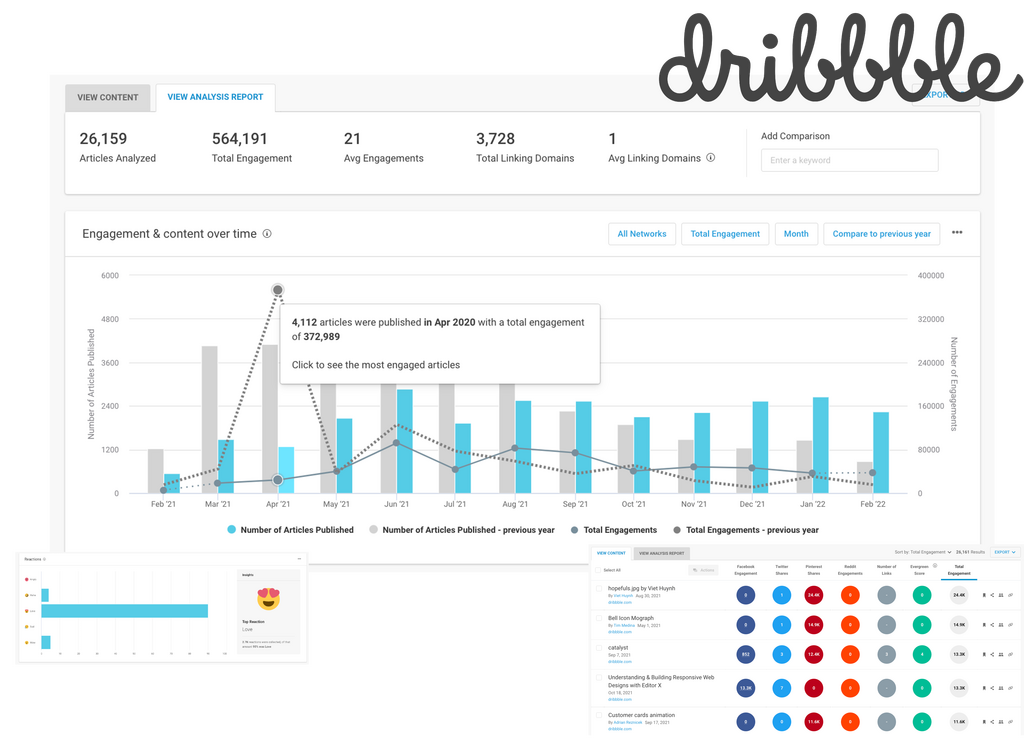 Analyze any domain with just one click
BuzzSumo's crisp, clear interface makes data insights instantly available. Type in any keyword or Domain for big brands such as Dribbble or Behance or Adobe and find out which content performs the best. Compare data over the past FIVE years, and understand consumer behaviour better. Break down content engagements by platform, day, time, and even monitor reactions to the most engaging content.
Never Miss a Beat
Keep up to date with Trending Stories on NFT, Crypto & Illustration
Find out what's going down and rising up around NFTs, cryptocurrency, or any given topic of your choice.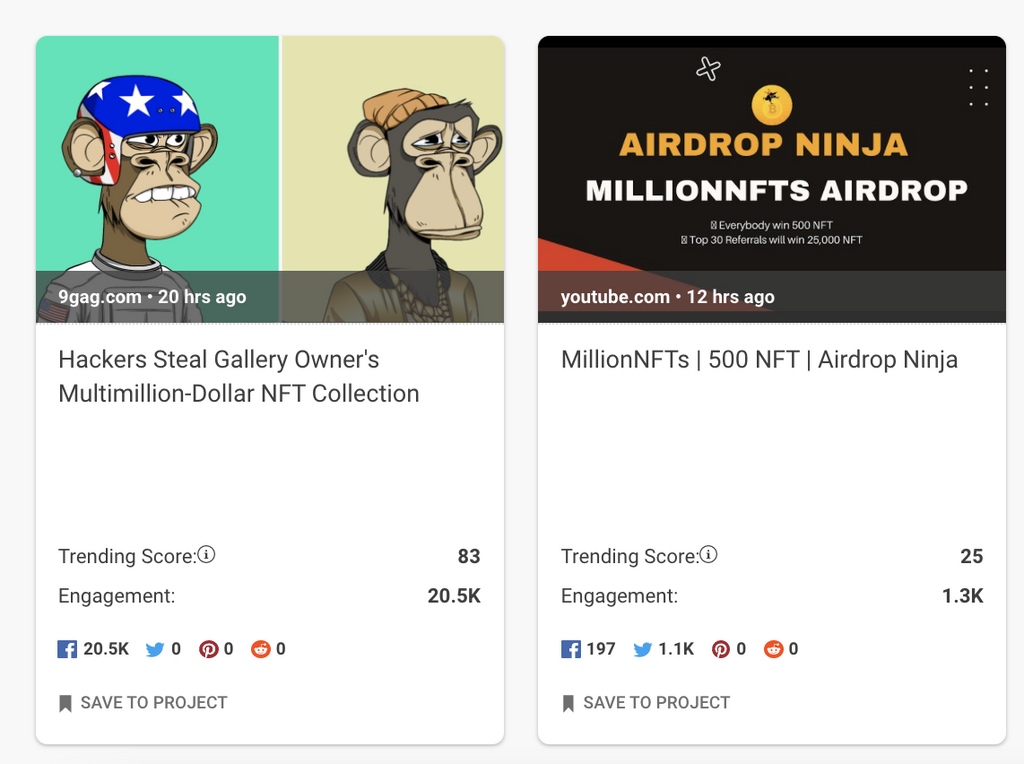 BuzzSumo NFT Data Facts 💡🤯
In 2021 there were 250k articles published on NFT's with a whopping 10.3m engagements.
In December 2021 alone, 50k articles were published, with 2m engagements!
So far in 2022, there have been 71k (and counting) articles published and 3.1m engagements!
It's safe to say, January 2022 is going to be the hottest month for NFT's according to the trend analysis report... 📈
Why BuzzSumo?
Monitor brand reputation & mentions
So, wanna monitor your own content engagement? Get slack or email alerts every time you land a link? Or even stay one step ahead, and track keywords and trends around NFT's and Crypto by the hour?

Create alerts for any topic, brand or keyword such as "NFT" or "Crypto" or "Illustration".

Monitor mentions of your brand so you can respond at the right moment. e.g. Side Hustler's Perspective

Track your competitors so you can always stay one step ahead.

Stay up-to-date with topics and trending keywords.

Keep an eye on your SEO wins.

Get notified with every link so you can update reports and build on victories.

Turn mentions into links and build relationships into partnerships.

Monitor your organic growth as your content takes off.

Track influential blogs, including your own.
Journalists & Influencers

Create alerts for key influencers, bloggers and journalists.

Discover the stories that are firing up reporters in your niche.

Amplify the messages of your key collaborators.

Get industry news delivered directly to your inbox.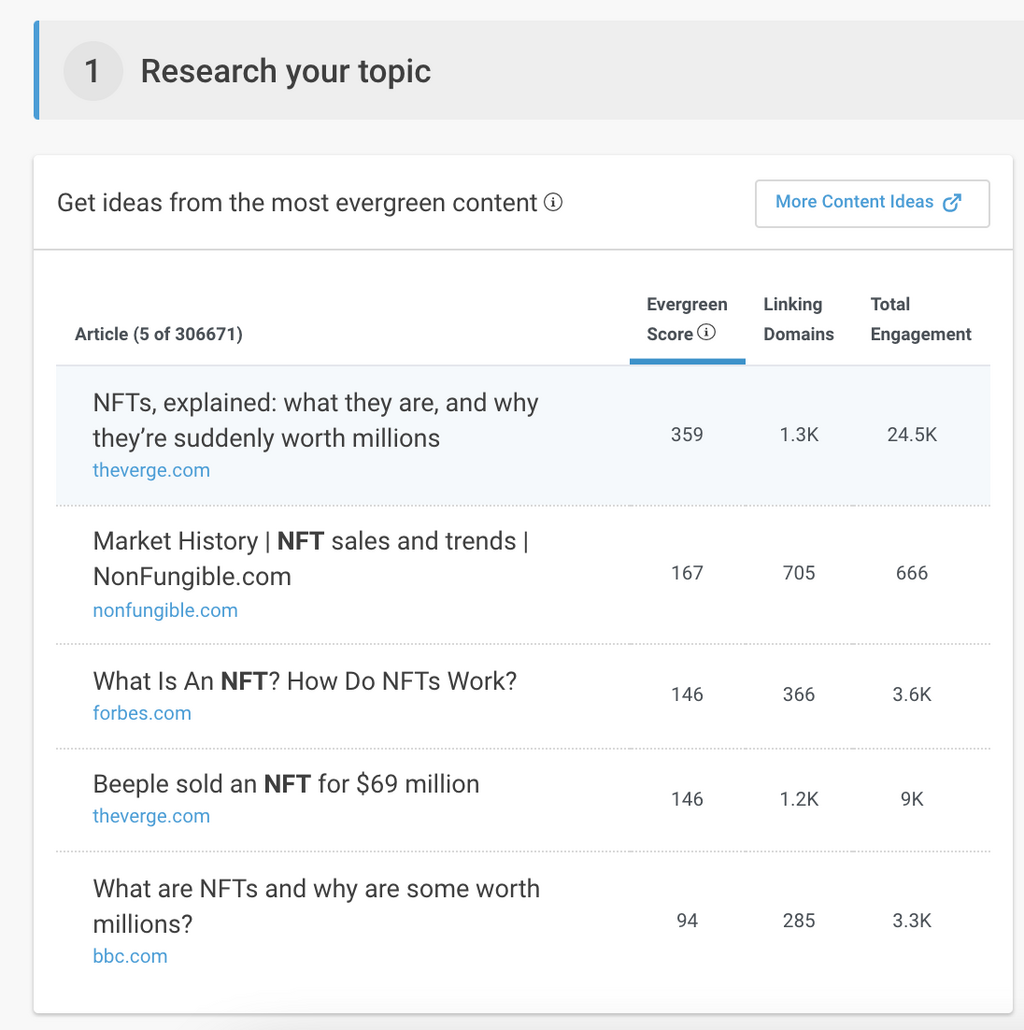 Whatcha Waiting For?
Powered by the world's largest social engagement database of 8 billion articles, you can use BuzzSumo to understand:
Which topics are engaging audiences right now.
Which journalists are active in your industry.
Who is giving media coverage to your rivals.
BuzzSumo is always evolving: Brand new features introduced in 2021 included Journalist Profiles, Content Ideas Generator and our Facebook Page Analyzer.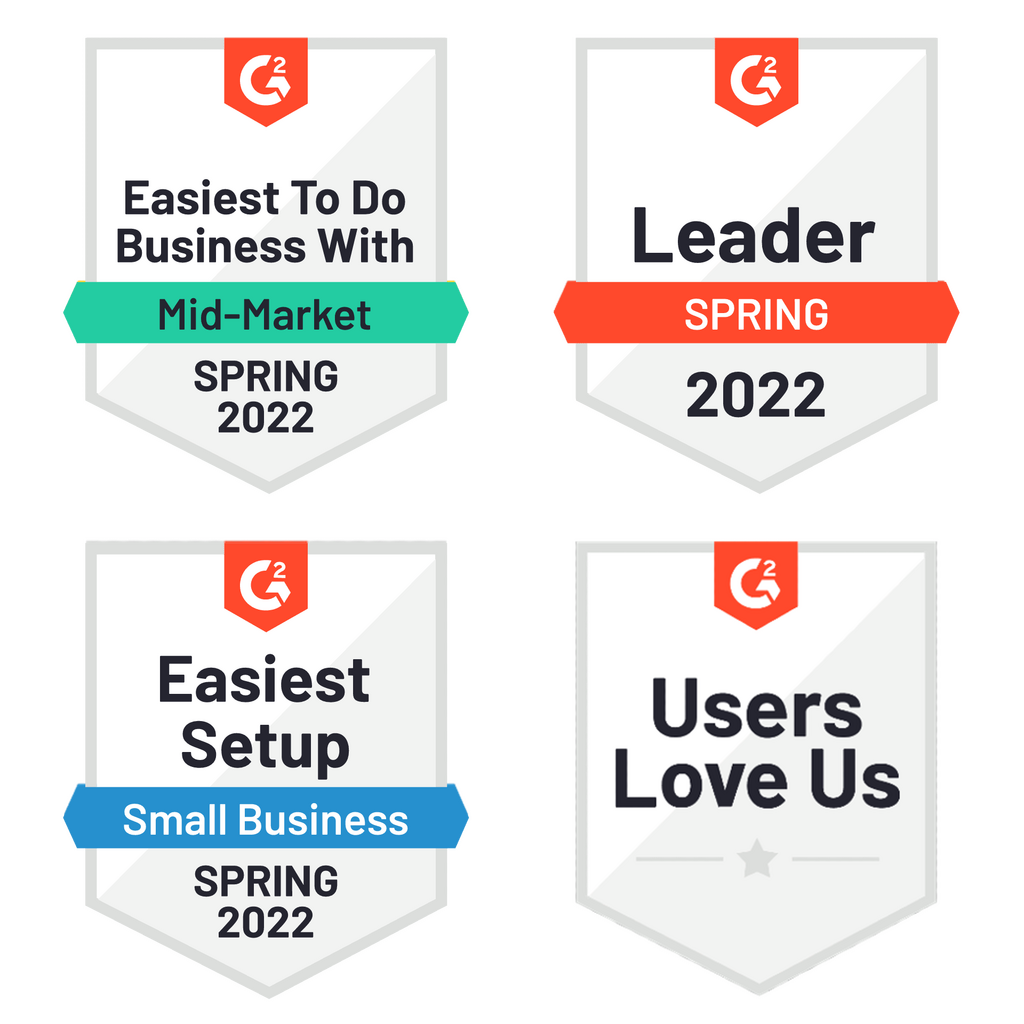 "BuzzSumo has quickly become a crucial contributor to our content strategy. The dashboard makes it easy to see at a glance what has worked and is working on our sites, for our competitors and around subjects we want to explore. Being able to identify the key influencers sharing our content is also hugely helpful"
Steve Wright - Tech Radar