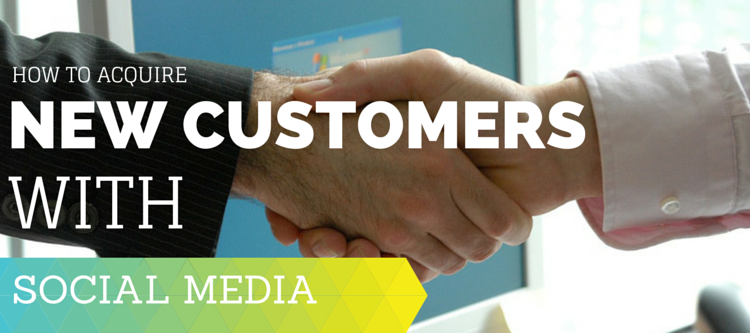 Social media has become a preferred and convenient method of attracting new customers for businesses across a wide variety of verticals. From those in retail to others in IT, the five biggest social media platforms — Facebook, Twitter, Instagram, LinkedIn and Pinterest — are still growing, and research indicates that almost three-quarters of all Americans are using at least one of these networks. Not to mention social collectives like reddit and social discover platforms like StumbleUpon are hot on the tails on of these giants as well.
Keeping these facts in mind, it's important for social media marketers to be thorough, systematic and innovative in their methods of acquiring new customers through digital channels. This involves coming up with step-by-step strategies for all campaigns, beginning with research, tracking and promotions. The roles of a social media marketers borrow heavily borrow traits from the world of public relations, where anything and everything we say and do publicly can have a positive or negative impact on our businesses and image.
Step One: Researching Demographics and Making Audience Profiles
Every product or service has a target market, and the more pinpointed marketers are with descriptions of audience profiles, the better their social media results will be. The key is to understanding the demographics of each social media platform, and to gearing all marketing toward those demographics.
Basic Demographics for Five Social Media Networks
Facebook – More women than men tend to use Facebook, and although older users are not uncommon, Facebook remains a teen-dominated site.
LinkedIn – This is a site where you won't find many young people, but you'll find plenty of business-oriented adults. Some use it as their primary social networking, so it's ideal for acquiring corporate customers.
Twitter – Interestingly, Twitter has been leaning more heavily toward male users, rather than female.
Pinterest – Women dominate Pinterest, especially those in higher-earning categories.
Instagram – This is another image-based site, and it is preferred by young people. In fact, it appears to be where the teens go to share, more than other social media sites.
Of course, these are but snapshots of social media users. More thorough research should be done to delve deeper into the target audience for a marketing campaign. In order to do that, marketers must create in-depth audience profiles, always being as specific as possible. For example, a marketing team may decide to target "women in their 20s and 30s", but without other information, such as income levels, education levels, family relationships and/or career placements, it will be impossible to determine which social media platform(s) are best.
Here are a few tools and tips to help you research and profile audiences on social media:
Start with your Google Analytics dashboard (or preferred analytics software), grouping you audience by age, gender, location, device, and psychographic profiles (including the baked in ones such as "technophiles")
Use Google Forms or Survey Monkey to collect targeted data that is not available in Google Analytics
Watch for new reports on PEW Internet
Depending on your needs, census.gov might be applicable
To gauge topics and trends in your industry definitely consider using BuzzSumo and paying attention to which networks are most responsive to that topic:

Google Trends also helps identify topics that are trending or about to spark
Step Two: Evaluating and Tracking Key Analytics
After launching the social media campaign, marketers must consistently evaluate and track the analytics related to their campaigns. Such tracking is necessary to understand how social media posts, images, links, etc., are performing.
Each social media site has its own analytics that can be tracked, so it's essential to know what to look for when analyses become available.
Key Analytics for Five Social Media Sites
Facebook – Fan-related metrics (e.g., fans reached, fan impressions), likes, hashtag tracks, comments, shares, photo likes, photo shares, video play, links clicked and positive feedback.
LinkedIn – Connections, shares, likes, hashtag tracking, links, responses/engagement, and photo links.
Twitter – Hashtag tracks, retweets, favorites, followers, replies and mentions.
Pinterest – Likes, repins, clicks per pin and pinner followers.
Instagram – Hashtag tracks, followers, likes and shares.
As social media continues to grow, each site will no doubt change in terms of how marketers can use data to benchmark success. Thus, it's important to stay on the cutting edge of those changes by being active on the social media sites in either a business or personal capacity.
Here are a few tools and tips to help you evaluate and track your campaigns:
The best and most practical route is to set up custom tracking URLs in Google Analytics along with custom conversions and a custom dashboard to visualize the success of the goals. For example, we could track referrals from a facebook post and the conversion rate on those referrals, giving us an accurate representation of how well our social media post performed.
Bit.ly is one of the most popular URL tracking tools
Facebook, Twitter, and reddit have baked in analytics for advertising campaigns, making them ideal pit-stops when evaluating a campaign
Step Three: Experimenting with Popular Promotional and Gateway Tactics
There is no need to reinvent any wheel when it comes to promotional tactics that have proven to be excellent gateways to garnering new customers. While it's fine to be creative once in a while, there are certain techniques that have been shown to work for each of the five social media sites mentioned in this article.
Before diving into a fire-round of tactics below, let's take a quick look at one growing strategy over the past few years: webinars. These are essentially just educational videos. Below, we'll see two examples: one that uses a gateway and one that doesn't. The trick is creating videos that answer very in-demand or highly searched topics. I'm not going to just spew "create high quality videos" – that's not actionable.
Videos give us the advantage of targeting short-tail keywords with monstrous amounts of traffic. We always hear "go for the long-tail" but this is one of those situations where we can deviate from the most traveled path. We don't necessarily have to compete in the SERPs and that allows us to have more topical options when planning out our videos. I found a great example of this strategy on FrontStream's webinar library, which offers a handful of videos that help answer hot topics in our industry, such as "using social media to increase your customer base" and "mobile payments for business":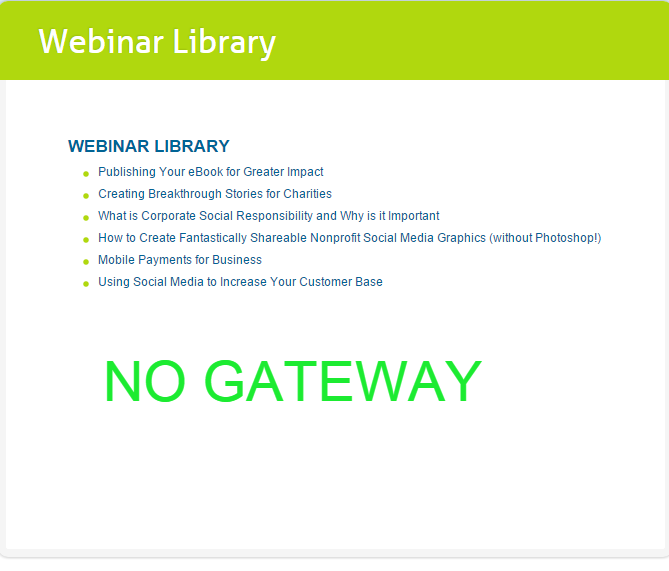 Since we're on the topic of gateways, I felt their particular library was an interesting example because they do not restrict their webinars – anyone can watch them. On the flip side, HubSpot puts the majority of their content behind gateways (example):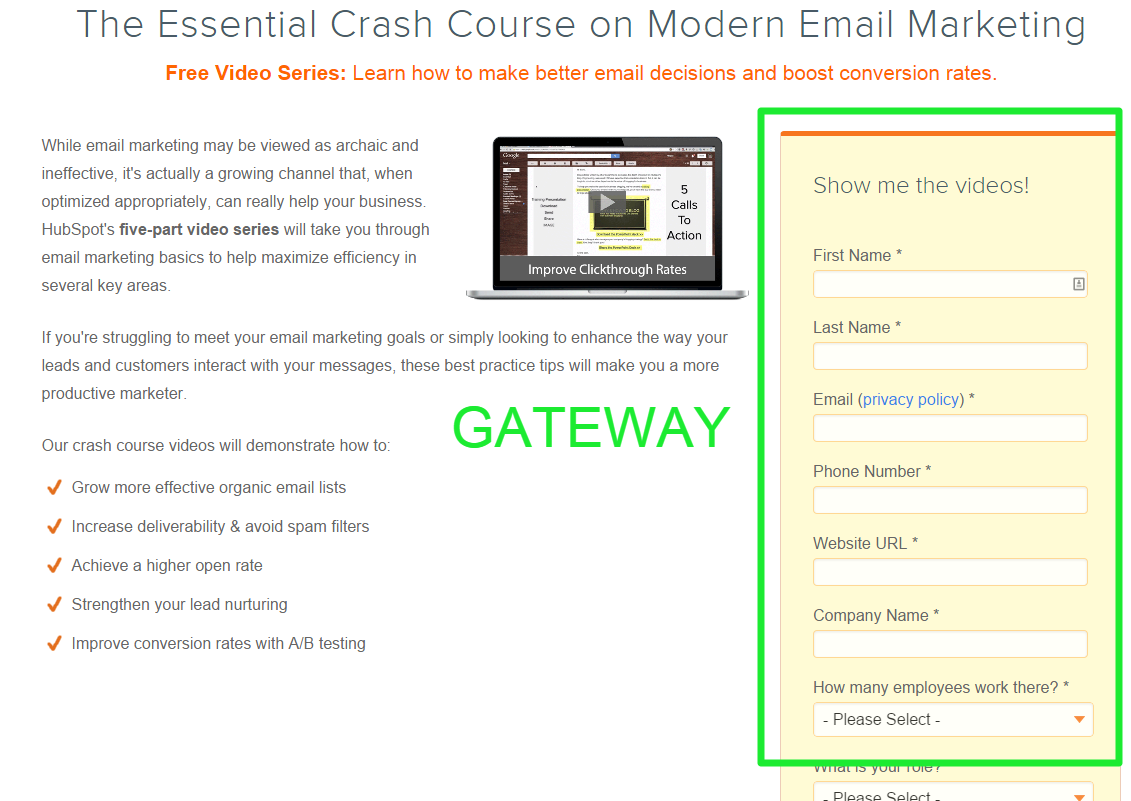 We can't access them unless we fill out a pretty lengthy form. Both scenarios can increase our customer acquisition, but a gateway ensures we collect user information.
Some popular promotional tactics that can be used for one or more of the social media sites Facebook, LinkedIn, Twitter, Pinterest and Instagram include:
Introducing interactive polls. These can be tracked for effectiveness relatively easily and provide instant engagement.
Asking questions of followers. Many times, people respond to questions, whether the questions are silly or serious.

Holding contests. Social media contests can go viral, or at least invite new customers. One caveat: It's critical to have a way to convert users who only want to win the contest, but might not be engaged otherwise.
Discounts, deals, and incentives. Amazon is one brand that posts call-to-action infused deals and discounts on Facebook daily: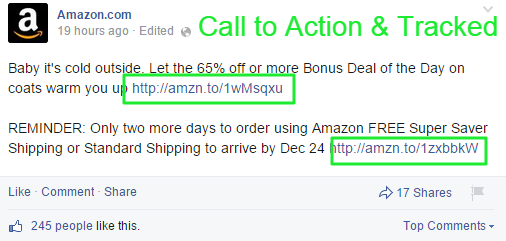 Linking to guest posts/friends. Sharing information is what social media is all about, and it's effective in building rapport and trust.
Asking for input on new products or services. Though this can be tricky, if done correctly, it can elicit fantastic insights.
Posting entertaining photos, videos, etc. Social media users enjoy being entertained. Playing into this desire can produce financial returns.
Posting inspiring quotes, images and videos. Again, this is a way to emotionally connect with social media audience members in a very personal way.
Creating superfans like Modcloth: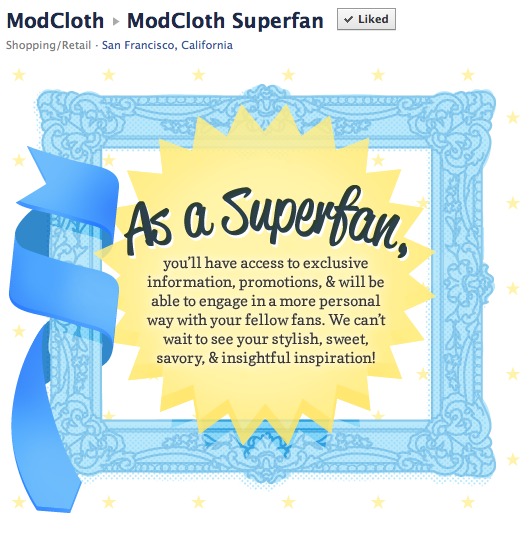 Paying for targeted advertisements. There's no reason to ignore the pay-to-play effectiveness of advertisements on social media. Try A/B split testing for a higher understanding of how the ads are performing. On Facebook it's necessary to invest a reasonable budget to reach audiences; especially in the thousands
Using hashtags. Even if a company doesn't have a hashtag following of its own, it may be able to piggyback on popular hashtags. This involves social marketers keeping their ears to the ground when it comes to trending hashtags.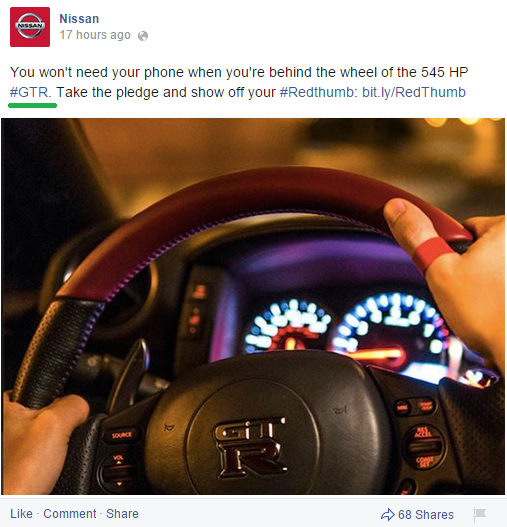 These tactics collectively work to acquire new customers from social media channels. Patience with campaigns helps, as does agility in the face of events, discussions, and hot topics.
What tactic have you seen work well on social media channels? Would you rather be sold to via social media or in-person?
About the author: Jesse Aaron is a community manager and runs Mashbout, a site for social media marketing forums and articles.