The Tab
Editorial teams at online news publisher The Tab use BuzzSumo's Alerts to make real-time, data-based decisions about which stories to assign to their writers. In doing so, they are solving a problem that plagues many online news publishers -- how to get critical data about audience preferences into the hands of journalists in a format that is instantly useful.
Challenge: How to use big data to drive audience growth?
Actionable editorial analytics should be a lifeline for online publishers who must compete fiercely to carve a loyal and growing audience.
It would seem that using big data and the volumes of information available across multiple tools would be second nature in today's newsrooms. But research published this year by the Reuters Institute at Oxford University indicates that many news organizations fall behind best practice standards in accessing, evaluating, distributing and using quantitative and qualitative information across editorial teams.
This difficulty of the task is amplified for start-up's or early-stage publishers, like thetab.com, which covers news at Ivy League colleges in the United States and universities in the United Kingdom.
The key issue at all levels is one of matching relevant data to journalistic tasks. Simply put, analytics need to be supported by a team with the organizational structure and "newsroom culture," that is able to use them, the Reuters Institute study concludes.
The Solution
BuzzSumo's Monitoring tool delivers alerts to editors for evaluation and story assignment to reporters.
The central editorial team uses BuzzSumo's Monitoring tool to get realtime alerts of content trends for national sites as well as for niche publications catering to college students.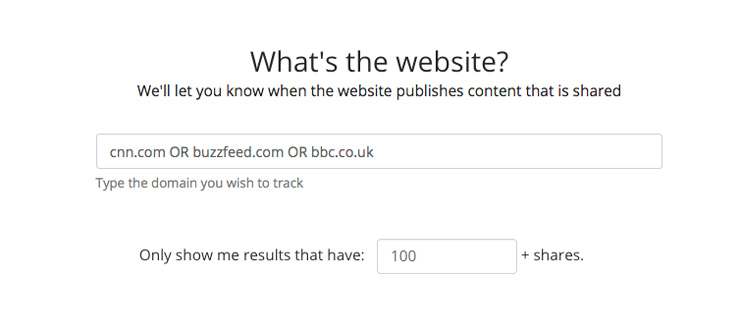 Using BuzzSumo Monitoring to send Alerts when content from multiple sites is highly shared. 
The information is delivered via email to editors who in turn evaluate the trends and assign, or commission, stories from student journalists on the campuses they cover.
It's an elegantly simple marriage of quantitative data, in this case share counts, and qualitative input — editorial decision makers whose practiced eyes discern what popular stories can be tailored to appeal to the Tab's target demographic.
Result: Holistic awareness of relevant trends
Josh Kaplan, Audience development editor at the Tab's Brooklyn-based United States headquarters, says:
"Without BuzzSumo we wouldn't have an awareness of the stories out there. It gives us a really holistic look at what's trending on any given day"
The Tab was founded in the United Kingdom at Cambridge in 2009 and expanded to the rest of the UK in 2012. The United States segment opened in 2015, and the team subscribed to BuzzSumo soon afterwards. They now cover 50 campuses in the UK and 70 in the US.
Result: Shorter time to publication
BuzzSumo Alerts are used to direct reporting in both countries, Kaplan explained. "If we see something that is trending for another publisher, it inspires us to commission our own take on it, either from our professionals in London or New York or one of over 1200 student reporters on the ground.
"Whether it's a BuzzFeed list, or a Washington Post long read, we can react as quickly as possible."
The chief business task in the United States for the Tab is audience growth, which will eventually strengthen its value to advertisers.
Result: Efficient, effective distribution of high performing content
In addition to providing readers with content that resonates, increasing distribution of articles published at The Tab contributes to audience growth.
BuzzSumo plays a role here as well, Kaplan explains.
"We have Alerts set for high performing content from our own sites. When something is performing well, the newsroom is notified via an integration of BuzzSumo alerts with the teams' Slack communication system."

"We use this data to incentivize and praise our writers as well as monitor whether a certain angle is getting social traction."
This real-time feedback loop helps the Tab's editors identify popular content which can then be distributed more widely or aggressively across their network of sites.
Result: Increased brand awareness
In one recent success, a piece about involuntary Gender Misconduct training for a Columbia student was picked up and covered by Fox News.
The Tab takes its responsibility to student journalists seriously, offering them training as they work to produce content for the site. Journalists trained at The Tab are now working at Reuters, Vogue, the Guardian, BuzzFeed and the Daily Mail.