Content marketers have limited time and resources, to be effective they have to focus on the content that works. The content that engages, that resonates and that leads to conversions. It is no longer good enough to focus your strategy on what you 'think' works or even what the highest paid person in the organisation (HiPPO) thinks. It about what the data tells you and the hard evidence about what works. We take a look at how data driven decisions improve performance and six ways content intelligence can be applied to improve your content marketing.
According to McKInsey companies both small and large are leveraging data-driven strategies to innovate, compete and capture market share. If you are not leveraging content intelligence in your content marketing you risk losing out to those that are.
Why Content Marketers Need Data
A CMI study in 2013 found that whilst 93% of marketers had adopted content marketing they also identified three core challenges:
lack of time (69%),
producing enough content (55%)
producing the kind of content that engages (47%)
The key to an effective strategy is focusing your limited resources on the content that resonates, that drives traffic and that leads to customer conversions. Content marketers simply don't have the resources to create lots of content, throw it at the wall and hope some of it sticks. An effective strategy requires content intelligence. You need to move from "What do we think?" to "What do we know?
Data Driven Decisions Improve Your Performance
Research by Andrew McAfee and Erik Brynjolfsson of MIT has found that companies that use big data and analytics into their operations show higher productivity rates and greater profitability than their peers ("Big Data: The Management Revolution"). Big data is not just simply about analytics, the nature of big data is characterised by:
Volume – many industries now generate huge volumes of data, they can track customer behaviour to a very detailed level.
Speed – data is available almost instantly and companies are able to make decisions and change decisions very quickly.
Variety – data is available from a wide variety of sources, in social data this means data is now available from many different social networks.
The data opportunities and challenges vary from sector to sector but there is strong evidence that big data and data driven decisions improve effectiveness, increase productivity and reduce costs. For example, McKinsey have estimated that a retailer using big data has the potential to increase its operating margin by more than 60 percent.
McKinsey's evidence shows that the best companies use data rather than the highest-paid person's opinion (HIPPO) or hunches to understand what is working.
Data Improves Marketing Performance
McKinsey's review of more than 400 client engagements over eight years found that an integrated analytics approach can improve marketing performance and free up some 15 to 20 percent of marketing spending. Money that can be reinvested by companies or go straight to the bottom line.
In one case study a home appliance company changed its strategy when data analysis of the consumer decision journey showed fewer than 9 percent visited the manufacturer's own site, most buyers browsed retailers' websites. The company therefore shifted its spending to distributor website content and gained a 21 percent lift in e-commerce sales.
The importance of real speed and agility was also highlighted by McKinsey.
McKinsey found that the best-performing organizations reallocated as much as 80 percent of their digital-marketing budget based on data feedback during a campaign.
A data driven approach can drive benefits in content marketing as much as it does in other marketing areas. For example:
Naytev have shown that just split testing and monitoring headlines can lead to 30% more social shares which lead to more visits and  more conversions.
In different industry areas particular content formats or networks perform so much better than others. It is important you understand what works in your area or you can be wasting time and energy, just a little research can dramatically improve content performance.
Content intelligence allows you to craft a content strategy that is based on what works and ensures you focus your limited resources on the content that resonates, engages and encourages users to take action.
Content Intelligence – Moving from"What do we think?" to "What do we know?
There are six ways in which using big data can create value for content marketers.
1. Understanding Customers/Users
The key is understanding for any topic or area what content is resonating with customers and users, what engages them and what leads to conversions.

Tools like BuzzSumo can help you find content that resonates. You can search for the most shared content for any topic over the last year across all networks by analyzing billions of social shares. The data can also provide insights into the content formats users like to share, whether they share longer form content more than short form content, the type of headlines they share most and which networks they share.
You can also review your own most shared content by searching for your domain and see what is working for you.
Your website analytics and marketing automation software will help you analyze how your own content is generating leads and conversions. Tools like Hubspot and Marketo will give you detailed data on the leads that are converting and where they came from.
2. Data Visualisation
Data visualisation can unlock significant value by making large volumes of data more transparent and usable. Graphical visualisation of data can communicate trends much faster than detailed tables containing numbers and text.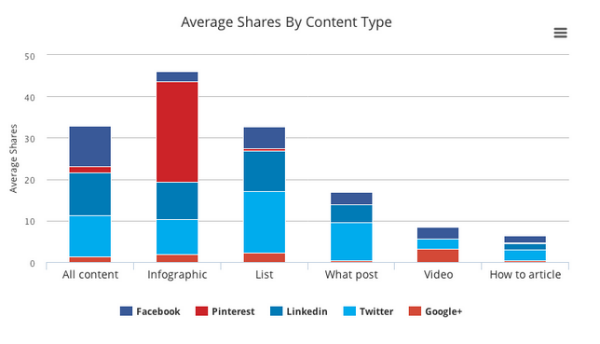 3. Experimentation and Tracking
Data can quickly highlight the variability in different approaches and allow you to focus on the areas that boost performance. According to McKinsey leading companies continuously conduct experiments and analyze the data to see what works to make better investment decisions. There are many tools now that allow you to split test different content and headlines, even Tweet copy to see what works best.
In content marketing there are many things you can experiment with and test such as:
Content formats, repurpose content as a SlideShare, an animated video, a blog post or a white paper.
Social networks, promote content on different networks to see what traction you get on each.
Content headlines, split test headlines and see what works best.
4. Understanding Competitors
Big data allows you to collect and analyze data on competitors. What is working for them and what can you learn. For example with tools like BuzzSumo you can see what content is working for your competitors.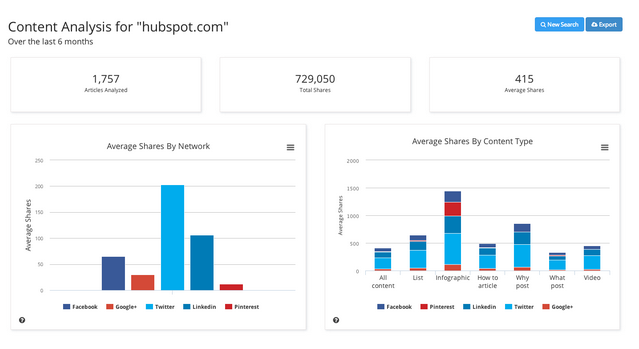 You can also set up content alerts to be alerted in real time to content they are publishing and how it is being shared. You can also be alerted every time their site is linked to. There has never been a better time to be able to monitor your competitors and how well they are doing.
5. User Segmentation
Big data sets allow you to segment customers and users to target particular audiences such as people who engage with you or influencers. You can analyze who is amplifying content and assess their reach, the engagement they generate and how much their shares are reshared.

With BuzzSumo you can click View Sharers for any piece of content to see who shared it and for any influencer you can dive in and see all the links they share.
6.  Real Time Insights
Speed and agility are critical in our hyperspeed world. Insights from real time tracking can allow companies to make appropriate adjustments to their content and campaigns. Content and distribution can be modified on very short notice. A recently leaked New York Times report showed how BuzzFeed do better in getting their content shared because they continually monitor and adjust their copy based on data feedback about what is working. The old New York Times approach of publishing and thinking that is where the work ends is dead. The new world is BuzzFeed's split testing and continual adjustment based on what is working.
Real time insights are not only based on your own content but on monitoring and being alerted to what is working for your competitors.  You can set content alerts for any keyword or domain so you are notified once their content starts trending or hits a certain number of social shares.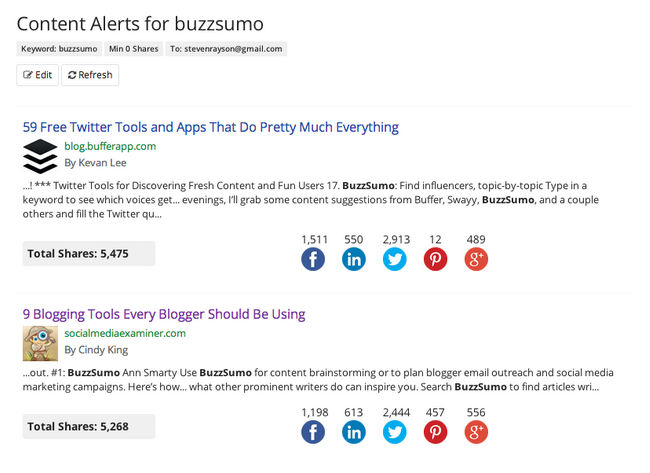 Summary
You are unlikely to win your content marketing battles by simply producing lots of content, you need content intelligence to develop an efficient and focused content strategy.
It is also worth saying content intelligence is not just about data. Data sets are getting cheaper but you need skilled people and good tools. Tools like BuzzSumo give you great insights and visual views of data. However, you also need skilled people that can use such tools effectively and interpret data to ensure you have the content intelligence you need. With this content intelligence content you can focus your resources on:
topics that resonate
the content formats being shared
headlines that are working
the best networks to distribute content
key influencers and amplifiers to reach out to