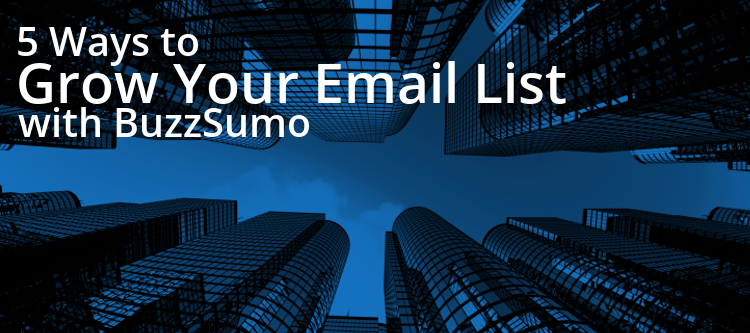 In October, SumoMe launched a free 30 day course to help anyone double their email list called Email1K. Each lesson comes from a marketing expert that used a different strategy to grow a large email list. And nearly every expert marketer suggested using BuzzSumo for different reasons.
While BuzzSumo may seem like just a useful search engine for content marketing, there are a number of ways to use it to build your email list. Here are 5 ways you can use BuzzSumo to grow your email list.
1. Make It Easy to Say Yes to Pop Ups and Scroll Boxes
Typically, sign up pop-ups are terribly dry. They offer "weekly updates" or something else uninspiring.
BuzzSumo allows you to spice up your sign up boxes with something that is popular, shareable, and already belongs to you.
This simple tactic uses BuzzSumo to find the most shared article on your own domain as a hook in your popups and scroll boxes that ask people to subscribe.
SumoMe is a free set of tools to grow email lists and to grow their traffic through social sharing. Whenever we help someone set it up on their site we go straight to BuzzSumo and search for the site owner's domain.
We then take that the #1 most popular/shared post and use that as their hook for List Builder or Scroll Box apps.
Here's an example of how the strategy worked on AppSumo.com:
1) Install List Builder by SumoMe.com. (It takes all of 2 minutes to install)
2) Optimize It
a) Search for your own domain on BuzzSumo.com to find your most shared most posts.
b) Take your #1 popular post and make that your Heading in the "Design" section of List Builder (i.e. "15 Awesome Tools You've Never Heard Of")

b) Take your #1 popular post and make that your Heading in the "Design" section of List Builder (i.e. "15 Awesome Tools You've Never Heard Of")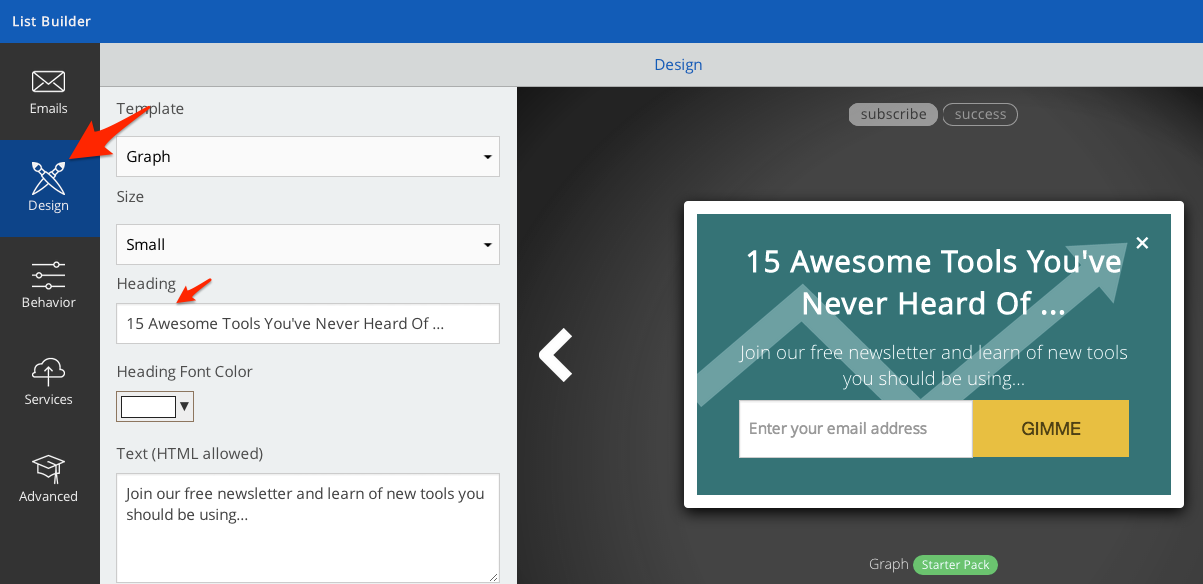 c) In "Behavior" under "Success Redirect URL" add the URL for your most popular post. Add that same URL to "Exclude Pages" to keep the pop-up from showing on the success page. Here's how it should look: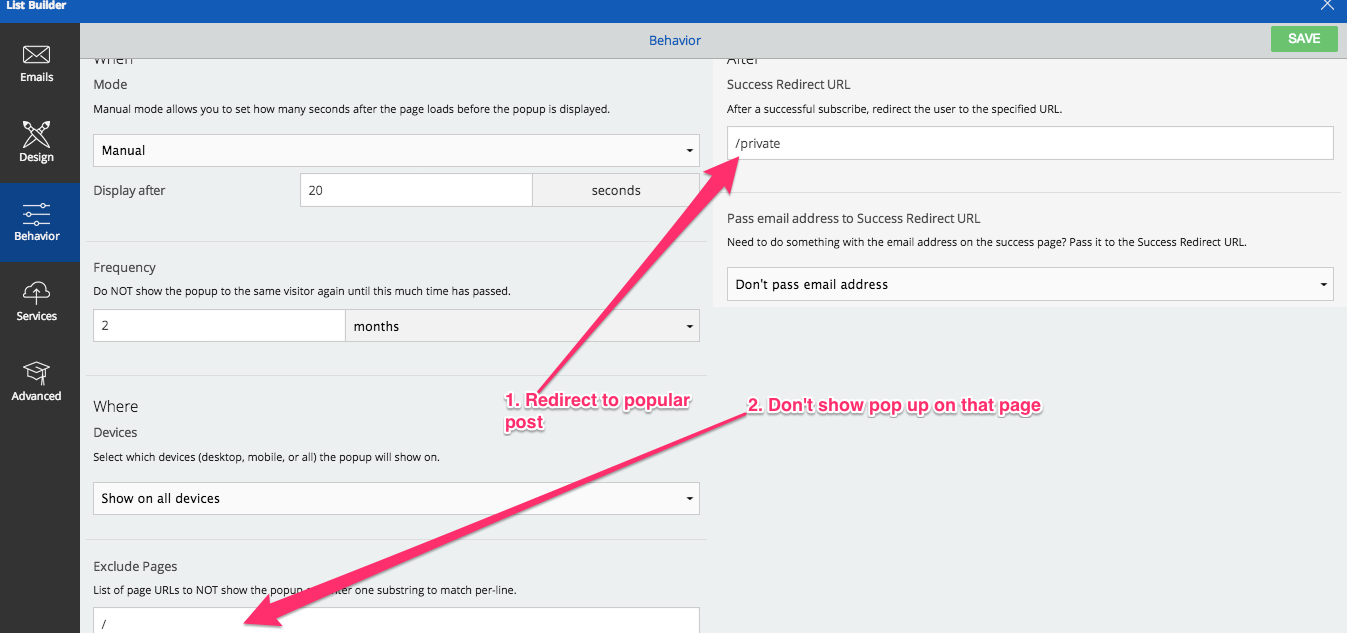 The Result:
3) Make it easier to share
Once you've captured the email address and redirected your new email subscriber to your most popular article, make it easier for them to share with a social sharing plugin.
It's 100x easier than spending hours thinking about the perfect call to action, creating new content, or writing a new ebook. With this strategy, you already know that it's interesting, shareable, and has social proof.
2. Find the Best Titles for Blog Posts and Upgrades
If you write a lot of content you know that after writing a 2,000 word blog post it can be tempting to skimp on your title–which is arguably the most important part to getting it shared and read initially.
If your creativity is lacking and you need some ideas then go straight to BuzzSumo. While you never want to plagiarize, you can see how the most shared articles on your topic (or related topics) are titled.
To start, search for your main topic. In this example, let's say we've just finished writing a long post about marketing hacks so…we'll search for "marketing hacks."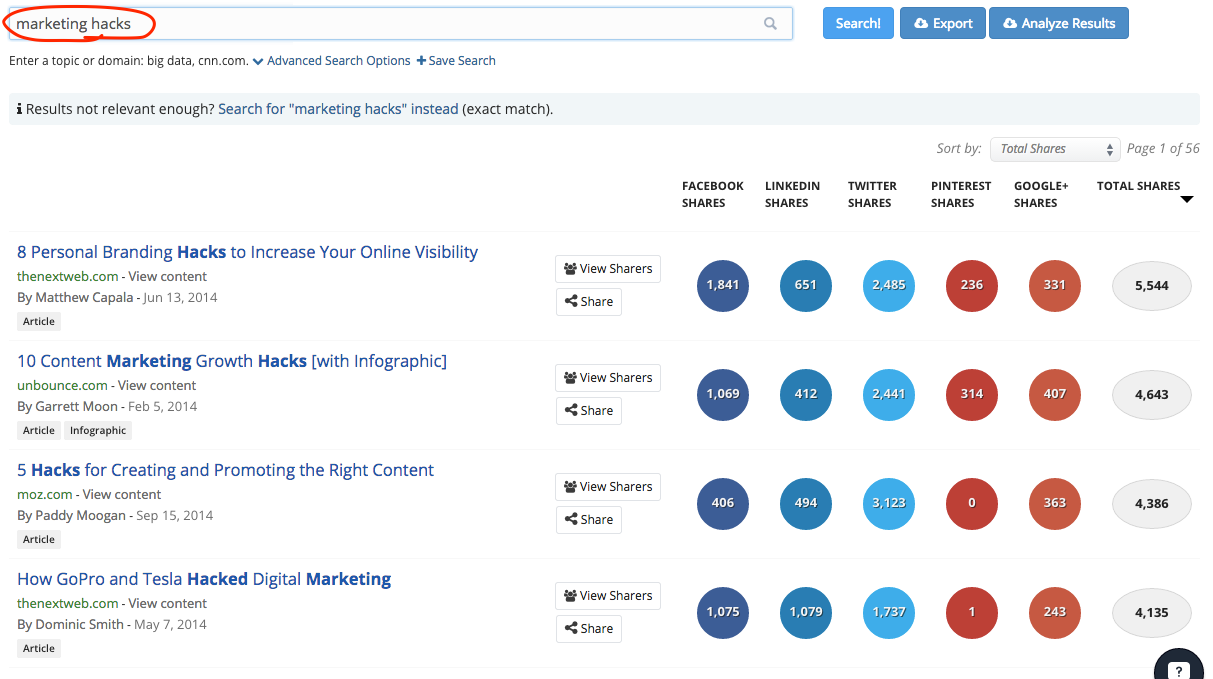 Immediately (and unsurprisingly) we notice that the first 3 of the top 4 results use a number (e.g. 8 Personal Branding Hacks…) and the 4th result uses "How" and two popular brands in the title.
Do at least two other searches with a different, but related keyword to get additional results. The new post could be titled: "10 Email Marketing Hacks Facebook & AirBnb Used to Increase Adoption." (Or you could create multiple headlines using this strategy and test them using a program like Kingsumo Headlines and see which one performs best for your specific site and audience.)
You can also use this strategy to decide on the best titles for free upgrades within your content — such as a checklist, free ebook, white paper, or even a course.
3. Reverse Engineering the Best Content
If you haven't heard of The Skyscraper Technique, you should spend some time Googling today. Originally coined by Brian Dean at Backlinko, the Skyscraper Technique helps you drive more targeted traffic to your site–allowing you to capture more email addresses.
Let's say you have a blog about DIY homemade recipes and you want to write a post about how to make iced coffee at home. Instead of writing it and hoping you get lucky (maybe the NY Times' editor will share it with the world?), you can use BuzzSumo to almost-guarantee success.
First, search BuzzSumo for your target topic (in this case "homemade coffee" or "iced coffee")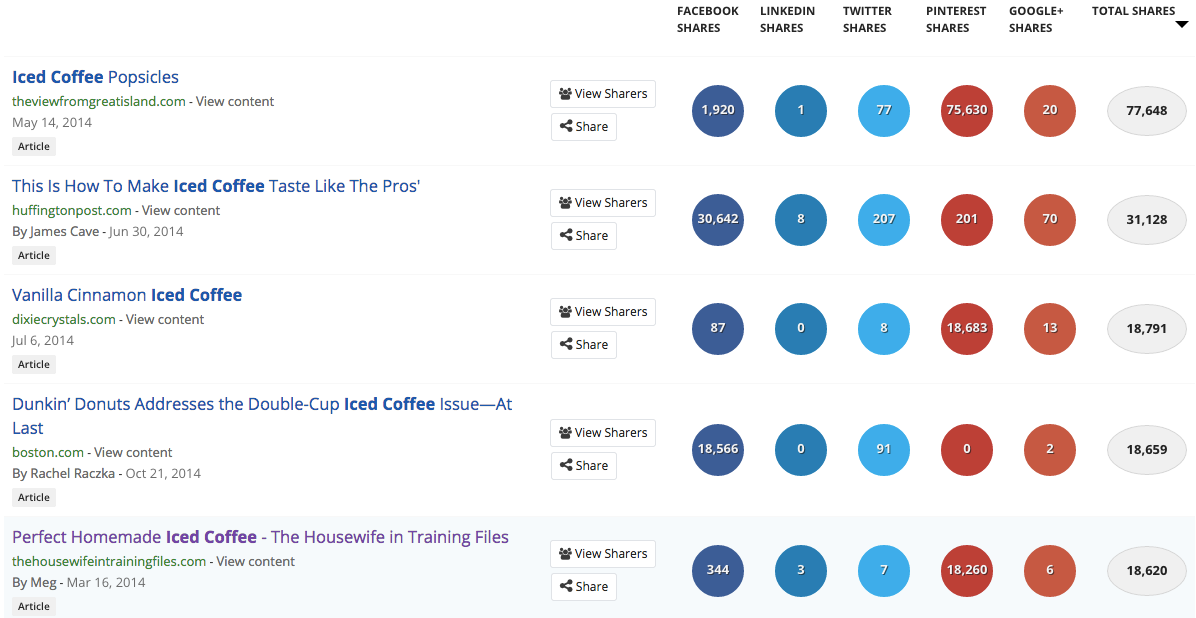 Look at the top 5 results. In this case the most interesting examples are #1 and #5 because they are blogs–not large sites like Huffington Post–getting a ton of shares.
Next jot down a list of what "elements" each post shares in common.
Do they all have images?
How are they formatted?
Do they use conversational or dry language?
What do the titles share in common?
What exact words do they use in the titles?
Now when you go to write the content and title of your post you have a template to work from.
The other part of the Skyscraper Technique is to find ways to improve on the top articles you find. Look for questions in the comments on blogs that you can address in your post. Or search for outdated information that you can update and improve on.
For a full explanation of the Skyscraper Technique and how you can use it to drive more traffic to your site, click here.
4. Reach out to Experts and Influencers
One of BuzzSumo's best features that people often forget is the "Influencers" feature. Influencers has a number of uses, but let's look at one way that compliments the Skyscraper Technique.
If you're looking for the top influencers to share a new article (e.g. "10 Email Marketing Hacks Facebook & AirBnb Used to Increase Adoption") you can see who shared the top 5 results we found earlier: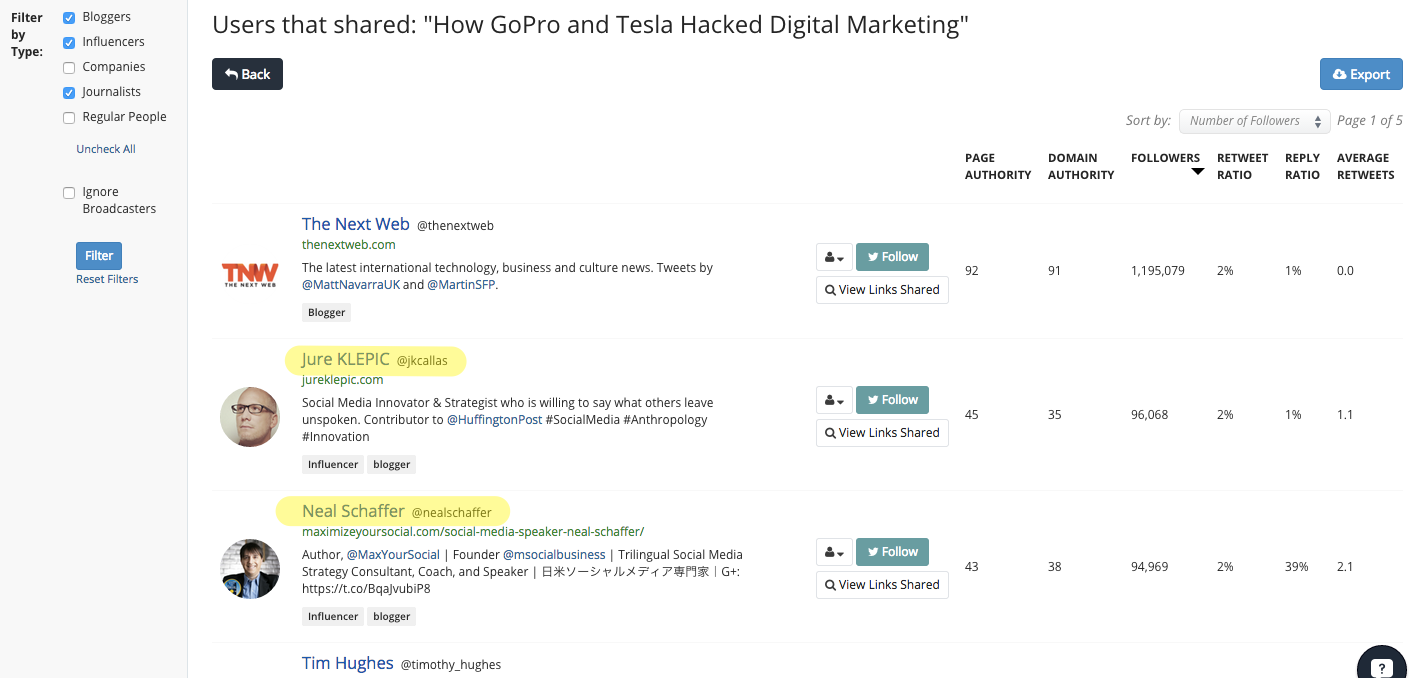 It's unlikely that reaching out to the main Twitter account for The Next Web will produce a fruitful relationship…but…. reaching out to Jure Klepic and Neal Schaffer is a different story.
At this point there are a few ways you can use the Influencers feature:
a) Ask for quotes from top influencers for your post
b) Get more shares to/from your targeted audience
c) Use the Influencer's quote or comment as authority for new subscribers
d) Secure an opportunity for a guest post
The response you get depends on the quality of the relationship and how much value you've added back to the influencer previously.
Another great way to use the Influencers feature is to find influencers related to a specific company. Most BuzzSumo users don't use this feature to it's full potential. One of the most simple ways to use this tool is to get a quote from an influencer at a company for a blog post and then to notify her colleagues when the post goes live.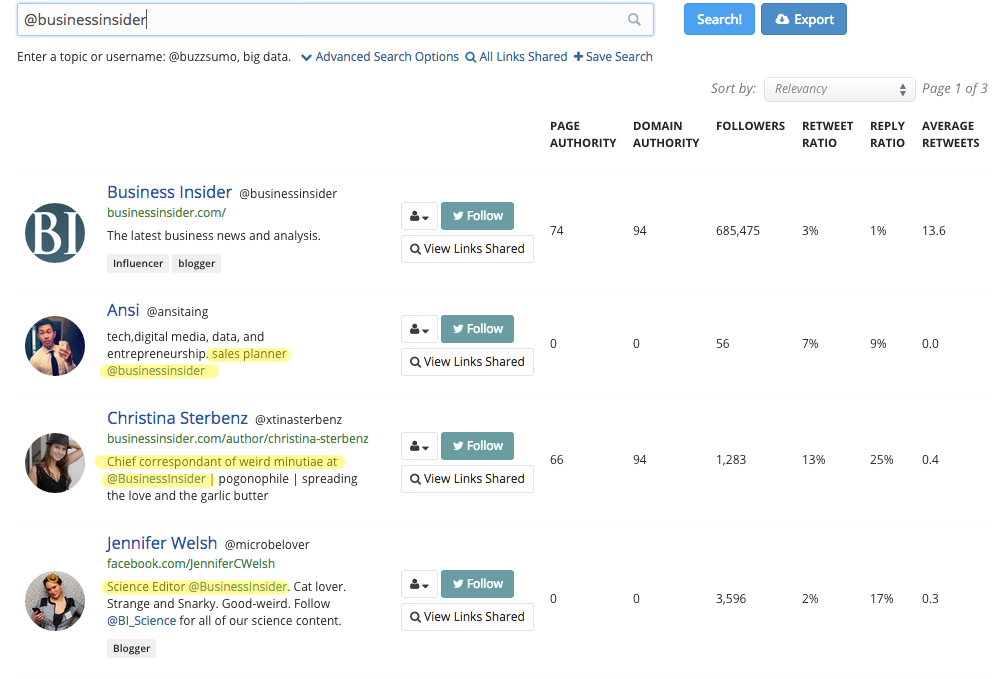 5. Find Joint Venture Opportunities
Joseph Michael, who wrote a recent lesson in the Email1K course, has used Joint Venture Webinars to grow his list from a mere 700 subscribers to more than 12,000 in less than one year.
He searches BuzzSumo to find influencers (like step #4) but he's specifically looking for someone that has his ideal audience and target email subscriber.
Joe then adds value to the individual (by commenting on tweets and articles over a few weeks or more) before asking them to do a Joint Venture Webinar—a combined webinar that adds value to the influencers audience for free.
He looks for articles that are relevant to his product (a training program for Scrivener), have a high number of shares, and an individual. This strategy allows him to find someone that already has a large and engaged audience–perfect for joint venture webinars or even guest posts.

Using BuzzSumo for Joint Ventures speeds up the process of finding opportunities and finding the best opportunities to work with the right people. The results speak for themselves: Joe gets as many as 700 subscribers a day leading up to a Joint Venture Webinar.
Conclusion
If you're looking to grow your email list and promote your content, start by leveraging BuzzSumo:
Use your most shared content as a hook for your signup forms
Optimize titles for posts and content upgrades to increase sharing
Reverse engineer the best content to drive more traffic to your signup forms
Reach out to experts and influencers
Find Joint Venture opportunities
Leave a comment below with unique ways you use BuzzSumo to build an email list.
For free tools to build your own email list and grow your site's traffic visit SumoMe.com.
– – –
About the Author: Tyler Vawser lives in New York City and is a Marketing Sumo for SumoMe.com–a set of free tools to grow website traffic and email lists.